Our flagship coach development programme, the Certificate in Professional Coaching was developed to give aspirants all the tools they need to become fully credentialed coaches. 
We deliver the programme via both a blended learning approach and also fully online as a virtual programme. Currently, we are running only the virtual programme option.
Accredited by the International Coaching Federation (ICF), students develop the skills and abilities to become certified coaches via 5 modules over a period of 5 or 6 months, depending on which pathway (blended or virtual) you decide to take.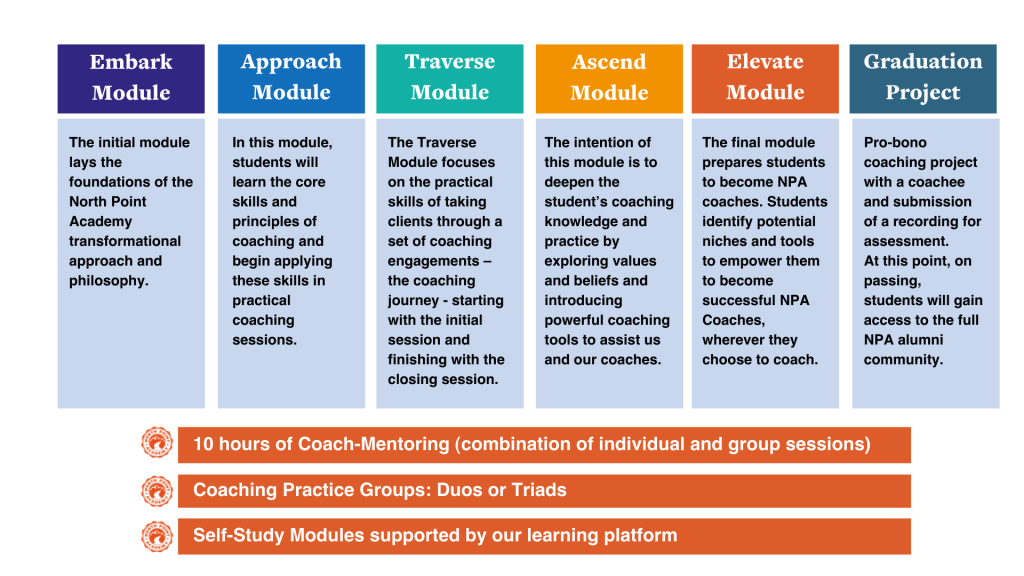 The online version of our certification teaches skills aligned with the International Coaching Federation (ICF) core competencies and includes:

79 Coach Specific Training Hours, including

63 hours of synchronous facilitated workshops and
16 hours of self-study (asynchronous activities)

Also includes 10 hours of coach mentoring
Coaching practice sessions and partner work
Business skills to launch your new coaching career
Access to our transformational community of coaches
Delivered fully online and supported by our online learning platform
Delivered over 6 months via 5 online modules, our virtual Certificate in Professional Coaching continues to create the transformational impact our community of alumni have experienced since 2016. The online sessions, like our in-person courses, are interactive and engaging, and include opportunities for discussion, small group breakouts and coaching practice.
Our training is delivered as a mix of facilitation, lectures, demonstrations, pair work and feedback, and practice coaching sessions. We place great emphasis on practicing the skills that are taught in each session so the facilitator can give feedback and assistance in a safe environment. Each student is also paired with a mentor throughout the course, and beyond, to support your development as a coach.
Who Should Take This Course?
Aspirant coaches – Those who are looking to help others achieve their goals and dreams. The course will equip you with the right tools to do this.
Coaches yet to be credentialed – You have been working as a coach and want to take it to the next level. Find the right tools to help you develop your craft, enhance your offering and get credentialed.
HR professionals – Coaching can provide invaluable skills to HR professionals. Go further in your career, resolve challenges, inspire those working in your team, find greater purpose in your role.
Leaders of teams – Gain clarity for your vision. Strengthen your goals by building a grander vision. Inspire and lead yourself and others to achieve greatness.
Seekers for a life that has meaning – You're at a point in life where you're asking, "Is there more to life than this?" You've been climbing a ladder leant against the wrong wall and you're beginning to recognise this.
Programme Overview
Embark Module:
The initial module lays the foundations of the North Point Academy transformational approach and philosophy.
Topics include the definition of coaching, the importance of vulnerability in coaching, worldviews and the North Point Meta-Model, which is the basis of all of NPA models.
Course Units
Unit 1 – What is (and isn't) Coaching
Unit 2 – Coaching and Worldviews
Unit 3 – The North Point Meta-model (NPM)
Unit 4 – Intimacy and Vulnerability
Approach Module:
In this module, students will learn the core skills and principles of coaching and begin applying these skills in practical coaching sessions. By the end of the module, students will have coaching tools to develop deeper, more meaningful relationship for being a positive change for the world.
The content includes the conversational skills of coaching, such as active listening and powerful questioning, as well as introducing students to our Goal Creation Process and The Journey coaching model.
Course Units
Unit 1 – Framing Tools
Unit 2 – Active Listening
Unit 3 – Powerful Questions
Unit 4 – The Conversational Model
Unit 5 – Goal Creation
Unit 6 – The Journey Coaching Model
Unit 7 – The Journey Practice Sessions
Traverse Module:
Starting with a deep dive into the important topic of coaching ethics, the Traverse Module focuses on the practical skills of taking clients through a set of coaching engagements – the coaching journey – starting with the initial session and finishing with the closing session and how to find clients.
Split into two parts, the first part takes place after the Approach module and the second part is completed after the Ascend module at which time students start to prepare for their graduation project by starting to work with a pro-bono client, if they haven't already done so.
Course Units
Unit 1 – Coaching Ethics
Unit 2 – The Initial Session
Unit 3 – Establishing a Coaching Agreement
Unit 4 – The Standard Session
Unit 5 – Maintaining Client Accountability
Unit 6 – Working with Client Patterns
Unit 7 – The Closing Session
Unit 8 – Finding Clients
Ascend Module:
The intention of this module is to deepen the student's coaching knowledge and practice by exploring values and beliefs and introducing powerful coaching tools to assist us and our clients.
These sessions build on the core coaching skills training learned in the previous modules, Coaching Practice Groups and Self-Study that has been completed up to this point.
Course Units
Unit 1 – Values
Unit 2 – Values Coaching Practice
Unit 3 – The NPM at a Deeper level
Unit 4 – The NPM at a Deeper level Coaching Practice
Unit 5 – Coaching Tools
Unit 6 – The Impact Ladder
Elevate Module:
The final module prepares students to become North Point Academy Coaches. Students will be able to identify potential niches and tools to empower them to become successful NPA Coaches, wherever they choose to coach.
Course Units
Unit 1 – Introduction to Niches
Unit 2 – Sales Coaching
Unit 3 – Intercultural Coaching
Unit 4 – Becoming an NPA Coach
Self-Study:
In between each of the training sessions, reading and homework assignments will be set in order to reflect on the reading and to prepare for the next training session.
Students are required to take part in weekly coaching practice groups with their fellow students. Over the course of 16 weeks the expectation is to complete at least 12 coaching sessions both as a coach and as a coachee and giving / receiving feedback on coaching
We encourage students to complete learning logs after trainings and coaching practice sessions.
We recommend that student's spend approximately 2 -3 hours per week on self-study and coaching practice.
Coach-Mentoring
There are 10 coach-mentor sessions included in our Certificate in Professional Coaching programme.
(Mentor sessions are valid for 18 months from the start of your coach-training programme)
All of our coach-mentors hold at least an ACC (Associate Credentialed Coach) level of ICF credential or above (and in the case of ACC, have done for at least 3 years) as per the ICF requirements for coach-mentors.
A mix of small group and individual sessions, the content of the coach-mentor sessions depends on the specific goals, learning needs and challenges set by the mentee(s). The mentor will spend time discussing the self-study aspects of the course, as well as observing coaching sessions in order to give feedback.
These sessions can also be purchased separately as a coach-mentor package for coaches who are not part of our certification or for those wanting further mentor sessions.
Graduation Project:
Pro-bono coaching project with a client and submission of a recording for assessment. At this point, on passing, students will gain access to the full NPA alumni community.